Lishtot was covered in a print edition of the publication Press Institute of India by Rina Mukherji out of Kolkata. Rina is a prominent environmental journalist and Lishtot is proud to have caught her eye. Rina viewed this as a product that can help India, particularly in light of recent events such as the Indian High Court ordering the railways to stop providing passengers with contaminated water.
India is a major focus area of Lishtot due to the growing population, the numerous water challenges, and the various water choices that are available including whether filtered, bottled, tap or otherwise. Take a look at this video of the TestDrop in Kerala, a state in South India, where life revolves around water and the river.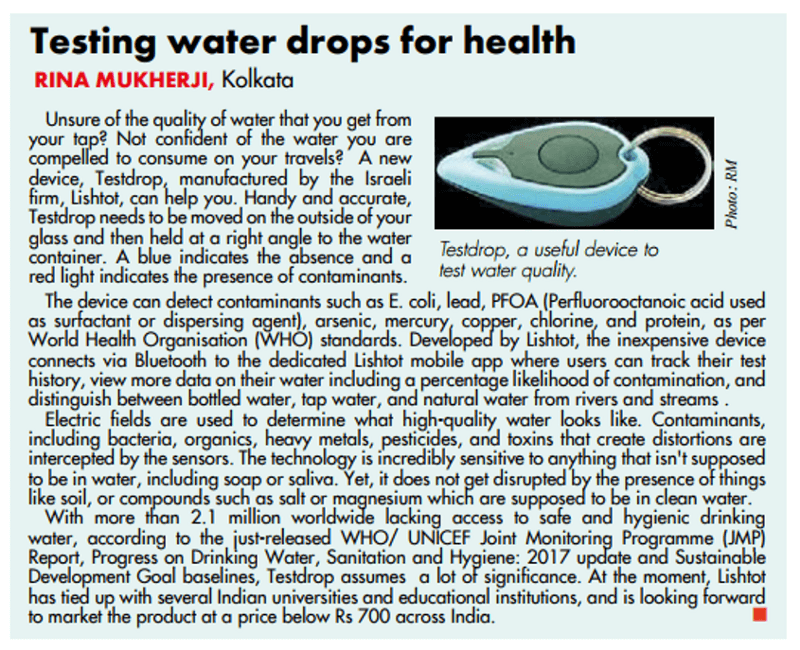 We took the TestDrop to Alleppey, Kerala in the South of India. In the "Venice of the East", water is life. Laundry, bathing, dishes, fishing, or transportation. But there is sewage, garbage, and boat diesel everywhere. Our local friend tested water straight from the river and it came out contaminated.Thankfully, they filter the water they drink and this water tested good. In the end, they were happy customers.
The text of the article is below and it can also be viewed on page 2 of this link.
"Unsure of the quality of water that you get from your tap? Not confident of the water you are compelled to consume on your travels? A new device, Testdrop, manufactured by the Israeli firm, Lishtot, can help you. Handy and accurate, Testdrop needs to be moved on the outside of your glass and then held at a right angle to the water container. A blue indicates the absence and a red light indicates the presence of contaminants. Testing water drops for health Rina Mukherji, Kolkata Testdrop, a useful device to test water quality. The device can detect contaminants such as E. coli, lead, PFOA (Perfluorooctanoic acid used as surfactant or dispersing agent), arsenic, mercury, copper, chlorine, and protein, as per World Health Organisation (WHO) standards. Developed by Lishtot, the inexpensive device connects via Bluetooth to the dedicated Lishtot mobile app where users can track their test history, view more data on their water including a percentage likelihood of contamination, and distinguish between bottled water, tap water, and natural water from rivers and streams . Electric fields are used to determine what high-quality water looks like. Contaminants, including bacteria, organics, heavy metals, pesticides, and toxins that create distortions are intercepted by the sensors. The technology is incredibly sensitive to anything that isn't supposed to be in water, including soap or saliva. Yet, it does not get disrupted by the presence of things like soil, or compounds such as salt or magnesium which are supposed to be in clean water. With more than 2.1 million worldwide lacking access to safe and hygienic drinking water, according to the just-released WHO/ UNICEF Joint Monitoring Programme (JMP) Report, Progress on Drinking Water, Sanitation and Hygiene: 2017 update and Sustainable Development Goal baselines, Testdrop assumes a lot of significance. At the moment, Lishtot has tied up with several Indian universities and educational institutions, and is looking forward to market the product at a price below Rs 700 across India."