JERUSALE;Lishtot, (Lishtot Detection Ltd.) has been accompanying Israeli Prime Minister Benjamin Netanyahu as part of his delegation on the Israeli trip to India the week of January 15th. It is one week after Lishtot unveiled its newest product, the TestDrop Pro, at the Consumer Electronics Show in Las Vegas, Nevada, and received a great deal of exposure including being featured in Techcrunch, being named as one of Techcrunch's Best Gadgets of CES 2018, and named in PC Mag India as one of five standout innovations.
Water is a major priority for Israel and India and is a cornerstone for much of the two countries' cooperation with one another. It was Prime Minister Modi's trip in July 2017 that served as the catalyst for this current delegation, meant to further the development deals that Israel and India are building particularly in the water sector.
While on the trip, Lishtot's CEO and Co-founder, Netanel Raisch, represented the company as it received an award from Livpure Private Limited, a maker of a reverse osmosis purifier, for 25,00,000 INR to further Lishtot's India development goals.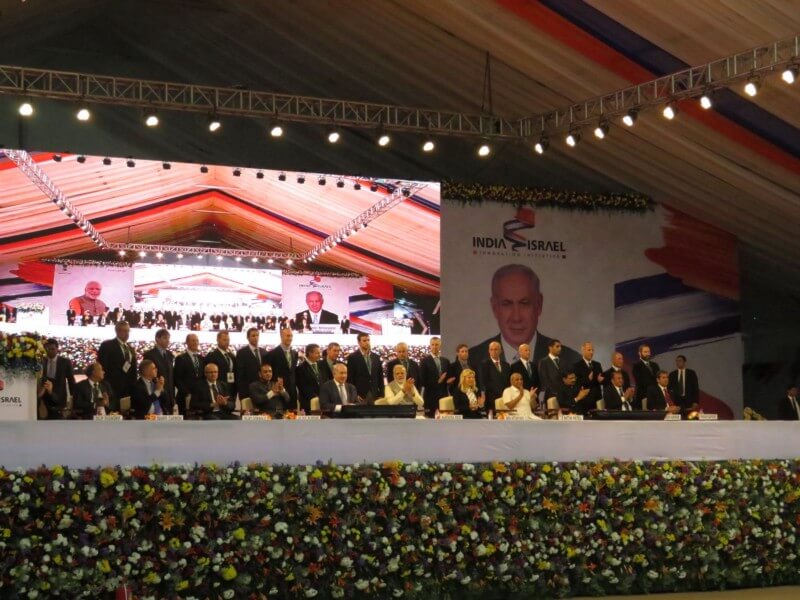 Lishtot's latest product, the TestDrop Pro, is a handheld keychain device that is an inexpensive and easy-to-use consumer product for rapid detection of contaminations in drinking water. The product is available for purchase online at www.lishtot.com at $59 (USD).
While Lishtot intends to promote the TestDrop Pro to the Indian market and is already shipping units there, they see much greater potential on the horizon as they look to build partnerships with bottled water companies, telecom providers, Indian multinationals, and non-profits. They intend to deploy their next advanced product, the TeStraw, with a focus on India by introducing a Test-as-a-Service business model.
"India is at the top of the list for markets we badly want to get into," said CEO & co-founder Netanel Raisch. "It's our dream to have people be able to click a button and order a Lishtot-certified tester to their house who will test their water for 5 rupees and provide a printout report of any issues as well as recommendations for solutions," said Raisch.
Raisch lectured at IIT Mumbai, Welingkar University, and several others last year, both about Lishtot's technology, as well as technology development and entrepreneurship. Lishtot is planning to open an office in India in the coming months.
Lishtot's technology is the perfect fit for a variety of applications in India. The device detects contaminants such as E. coli, lead, PFOA, arsenic, mercury, copper, chlorine, and protein at EPA and WHO standards. Tests take two seconds and give a blue or red light indicating the presence or absence of contaminants.
The TestDrop connects via Bluetooth to the dedicated Lishtot mobile app where users can track their test history, view more data on their water including a percentage likelihood of contamination, and distinguish between bottled water, tap water, and natural water from rivers and streams.
"We're all about data," said Chief Scientist and co-founder of Lishtot Dr. Alan Bauer. "The more data we can collect, the better people's water will get," said Bauer.
The future of Lishtot products will lead to more sophisticated testing devices, as well as stationary water monitoring devices in the water filter and on the kitchen faucet.
About Lishtot (Lishtot Detection Ltd.)
Lishtot is an Israeli technology company dedicated to improving water quality around the world. Lishtot makes products that can rapidly test drinking water for numerous types of contaminations and then aggregates this information to create a clearer picture of global water quality. Lishtot was officially founded in 2015 by serial entrepreneur Netanel Raisch, Lishtot's CEO and Dr. Alan Bauer, Lishtot's Chief Scientist. The core technology is based on a discovered phenomenon associated with electric fields and water. Lishtot's patented technology has received awards, grants, and global recognition for its innovation.
Lishtot is on a mission to democratize water data around the world and help people make smarter choices about the water they drink. They continue to build products designed to find contaminants and drinking-water problems before they become disasters.