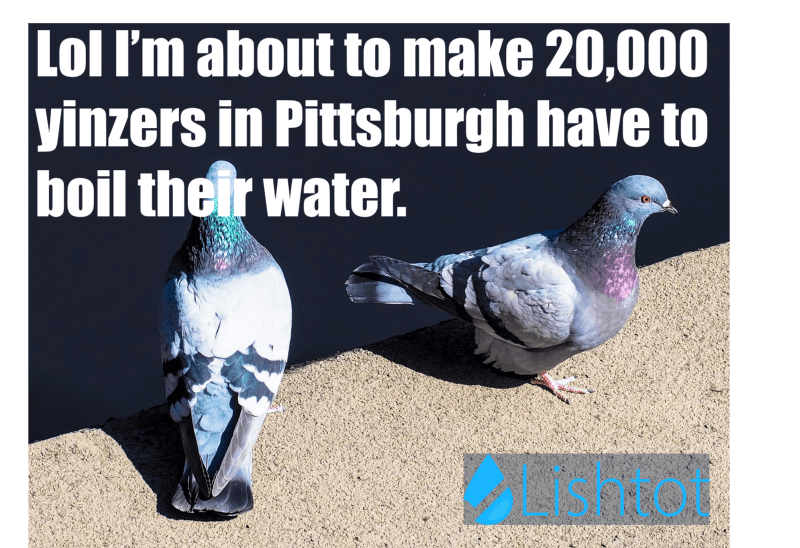 You never know when your city will be under a Boil Water Advisory. Watch this video and learn all there is to know on how to handle the situation if it arrives in your own city.
Pittsburgh is under a boil water advisory affecting some 20,000 people in the city. That's a whole lot of people.
The culprit? Bird droppings. According to the Pittsburgh Water and Sewer Authority (PWSA), a tear in a reservoir cover opened up the possibility that avian feces could infect the water supply of a good portion of the city of Pittsburgh.
The job to replace the reservoir cover and liner…will take about nine months and cost about $9 million.
The PWSA seems to be handling this as quickly as it can, announcing the boil water advisory may be lifted as early as Thursday August 31st. However, that's not before city councilwoman Darlene Harris scolded the PWSA and mayor's office for knowing about the problem on Friday August 25th.
Businesses lose tons of money as they cannot use ice, coffee machines, or wash any dishes. Residents lives are affected. And this will not be the last time. Pittsburgh was under a boil water advisory as recently as January 31st of this year.
The reservoir cover that tore was 21 years old. The question becomes how long has the reservoir cover been torn before the utilities even noticed? Even 1 hour is far too much. Where are there similar issues that the PWSA isn't yet aware of?
These issues with boil water advisories have been seen time and again. Firstly, its an issue of America's failing drinking water infrastructure, which the American Society of Civil Engineers graded a D in 2017. Secondly, it's an issue of notice and alert. The city knew about the problem on Friday and was only able to let residents know of the issue several days later via a robocall. This is simply not good enough.
Lishtot's TestDrop and TestDrop Pro devices provide rapid detection of water contaminations including those of feces and E. coli. Whether there is a false alarm or an actual problem, we like to think that people would rather know right away than having to wait several days before hearing any word of an issue.
Check out this handy video we made about boil water advisories and what to do during them.